Are you already counting down until season 8 returns? Do you want to celebrate the Walking Dead? How about we help you sett up for the BEST watch party the lucky people you call friends have ever seen? Well follow me. The upcoming weeks I will help you get mouthwatering snacks, tasty drinks, awesome decorations and unforgettable games!
- From :
Alright, listen up! Season 8 will continu on the 25th of february! Yes, yes, we are excited! (cause it's my birthday weekend too yaaaay)  The best way to get right back into the action is with friends. And while you're at it, get food, drinks, games and some decoration to make this a memorable gettogether!
I will get you all the information you need to throw an awesome party. In this first edition we will go through some walker themed savoury snacks you can serve. So, get yourself to the kitchen.

*Puts on a cute apron* Ok, let us begin! All these recepies are SO easy, If I can make them, you can cook this shit up too!
MARINATED MOZARELLA EYEBALLS
First things first. People know I LOVE to throw forks at people and I might have stabbed a couple of people in their eyes a couple of times. So here's how you make these mozarella eyeballs!


You need:

Mini marinated mozarella balls (trader joe sells them)

Firm olives:
Green olives
Black olives
A firm straw (the ones from McDonalds work)
 

Sooo here's what you need to do. 

1. Cut the green olives so you got ringlets
2. Hollow the ringlets out with your straw
3. Use the straw to get your pupils from the black olives
4. Put the mozarella balls on a nice plate, add a green ringlet and a pupil
5. Drizzle with the marinade from the packadge and stab the balls with a fork.
BLOODY FINGER HOTDOGS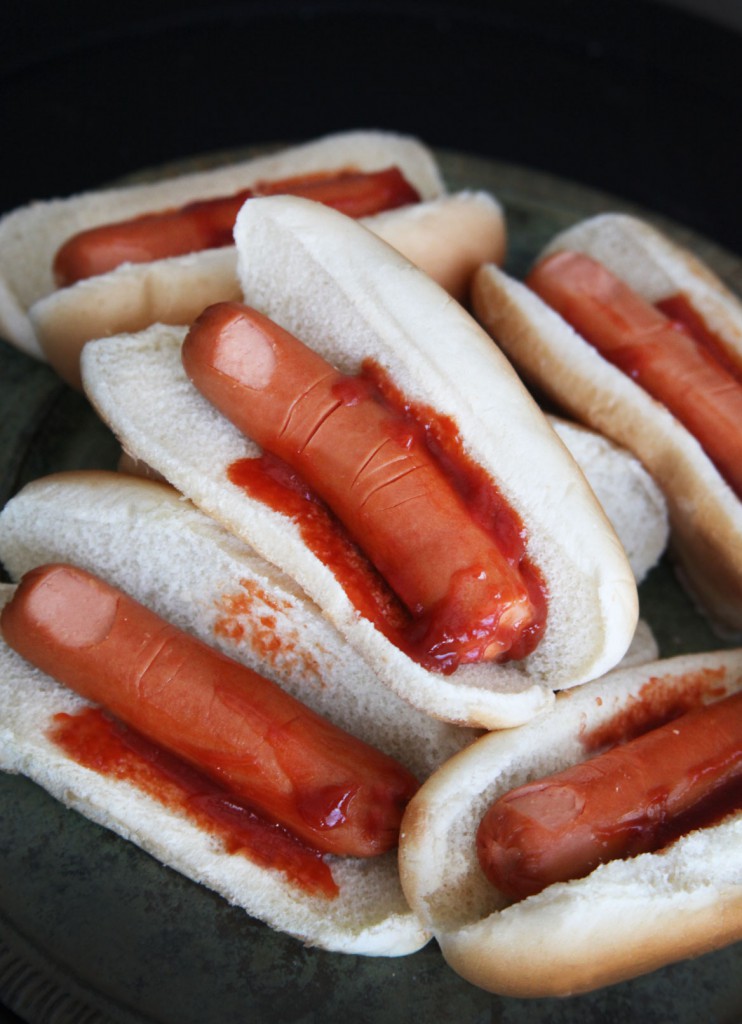 I don't know about you, but watching series always give me the munchies. So mozarella eyeballs are cute, but far from enough, am I right?

Hotdogs are easy, most people love them and you can even get veggie ones for your non meateating friends.

So obviously you need:
Hotdog buns
Hotdogs
Ketchup or any sauce and relish/ trims you like

But these aren't normal hotdogs, those would be a little but boring wouldn't they?

Just prep the hotdogs like you normally would. Except, cut a small layer from the top and carve along the lenght a little to make them look like.....FINGERS. 

WALKER BRAIN AND CRACKERS
Okay, we can't make all the things superduper easy. Oh wait! Yes we can!
This beauty looks a bit harder to make, but it's easy. It just needs a little prepping.




So how to make this awesome cheese ball? *Rolls up sleeves*

You need:
2 pkg. (8 oz/235 gr each) PHILADELPHIA Cream Cheese, softened
1 pkg. (3.5 oz/100 gr) Crumbled Feta Cheese
1/4 cup Grated Parmesan Cheese
1/4 cup Green Basil pesto
2 Tbsp. toasted pine nuts
1/2 cup oil-packed sun-dried tomatoes
1 clove of garlic
1/2 cup of water
1/4 cup olive oil
1 Tbsp. Balsamic Vinegar
Crackers of your choosing

Wow that looks like a lot doesn't it? But guys this is the best!  You need a food processor (blenders work too), plastic foil, bowls and a piping or plastic bag.

So here ...we...GO

1.In a food processor, blend 1 pkg. of cream cheese and the feta cheese until smooth, scraping down the sides as necessary. Spoon into a piping or plastic bag and refrigerate.

2. Lightly toast the pine nuts in a hot frying pan. Or you can buy toasted pine nuts and skip this step.

3. Add the remaining 1 pkg. of cream cheese, Parmesan cheese, and pesto sauce to the food processor and process until well blended. Add the toasted pine nuts and pulse several times to mix. Place mixture into a plastic wrap-lined bowl. Cover and refrigerate for 1 hour.
4. Add the sun-dried tomatoes, garlic, water, olive oil and balsamic vinegar to the food processor and process until smooth. Set aside.

5. After one hour: Get your pesto cheese ball out of the fridge. Unwrap the pesto ball and turn onto a plate. Gently shape into an oval.

6. Cut the tip off of one corner of the feta mixture bag and pipe onto the pesto ball in a twisting brain-like pattern. (curles and waves work great)

7. Add your sundried tomato sauce and it's ready to serve with crackers!
WAIT.... THERE'S MORE!
Three awesome amazing snacks that certainly will impress your friends. And if you still need extra's. Just serve your favourite crisps/chips with a small image of rick and get yourself some RicktatorCHIPS. 


That's it for now folks. Join me in the kitchen next week to add some sweet treats to your buffet! I'm talking chocolate pudding, bloodspattered cookies and brain cupcakes!