With Walkers taking over the world its no wonder if popular movies, books or video games get a slight twist on them. Here you can check out a few popular titles and new descriptions with a bloody good walker twist added to them.
- From :

They were five walkers with nothing in common, faced with spending a Saturday detention together in the library. At 7 a.m., they had nothing to say, but by 4 p.m., they had bared their souls and guts to each other and become good friends...and walkers. To the outside world they were simply a Braindead, an Athlete walker, a Basket full of bodies, a Princess walker, and a Criminal eater, but to each other, they would always be the Bloody Club.
---

The peaceful community of Alexandria faces imminent blowing up to make way for a new even land. However, when a band of local childhood Survivors who call themselves the "Bities", find unexpectedly the notorious Saviors "Negan's" old treasure gps riddled with hints and clues to his fabled weapons and loot, an opportunity to save their homes will emerge. Before long, a race against time and the criminals Saviors gang will begin; one that will lead the Bities to an underground maze of dangerous booby traps, all designed by Negan himself to protect his group. Are the Bities worthy of their reputation, moreover, is the weapons and loot real to save Alexandria?
---

Marty McEatems, a typical American walker teenager of the Eighties, is accidentally sent back to 1955 in a plutonium and blood-powered DeLorean "time machine" invented by a slightly mad scientist. During his often hysterical, always amazing trip back in time, Marty McEatems must make certain his teenage parents-to-be meet and fall in love and turn - so he can get back to the Apocalypse he knows.
---

After a gentle Walker becomes stranded in Alexandria, the being is discovered and befriended by a young boy named Carl. Bringing the walker into his house, Carl introduces E.W., as the walker is dubbed, to other children survivors, and the children decide to keep its existence a secret. Soon, however, E.W. falls ill, resulting in sheriff intervention and a dire situation for both Carl and the Walker.
---

The year is 1936. An archeology professor named Ieata Johns is venturing in the jungles of South America searching for a golden bloody statue. Unfortunately, he sets off a deadly trap but miraculously escapes...however...it does turn him into a walker. Then, Johns hears from a museum curator named Murky Bloody about a biblical artifact called The Ark of the Walkers, which can hold the key to humanly existence and survival. Johns has to venture to vast places such as Oceanside and Hilltop to find this artifact. However, he will have to fight his enemy Red Bodies and a band of Survivors in order to reach it.
---

When the lovely Gutcup is kidnapped by a ghastly gang intent on fermenting an international incident they find they are pursued by the Dread and dead Eatatem who just might be WetRed, her one true love. Also after everyone is nasty Prince Bloodyeating to whom Gutcup is now betrothed but who seems to care little for her continued "survival". The stage is set for swordfights, monsters, and tortures and walkers - but will Grandpa Rick be allowed to finish telling the story with all these kissy bits and bites in-between?
---

In the year 2029, a computer called Bloodnet is fighting against a human resistance, after having nearly destroyed the rest of humanity in 1997. Bloodnet has found a way to send some of it's warriors, called Walkinators, back in time. This is the story of the Walkinator sent to kill the resistance leader's mother in 1984, before she gives birth. The resistance sends a warrior named Carl Grimes back to 1984 to protect the young woman. The question is, can Sarah Caughther survive long enough to have her child so that history remains on track and not undead?
---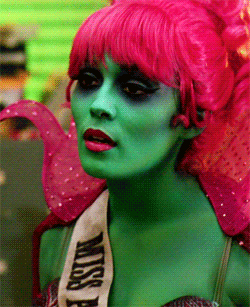 After Bloodbara and Ateher Deadland were killed in a car crash, they find themselves trapped as walker ghosts in their beautiful farmhouse. Their peace is disrupted when a yuppie family, the Deadzs, buy their house. The MDeadlands are too nice and harmless as walker ghosts and all their efforts to scare the Deadzs away were unsuccessful. They eventually turn to another walker ghost 'Walkerjuice' for help.
---

A mother and her two sons move to a small survivor camp. The town is plagued by Walkers and some mysterious deaths. The younger boy makes friends with two other boys who claim to be Walker hunters while the older boy is drawn into the gang of walkers by a beautiful girl that is undead. The older boy starts sleeping days and staying out all night while the younger boy starts getting into trouble because of his friends' obsession with the undead.
---

An unhappy boy is bullied by walkers and seeks sanctuary in the library. The owner gives him a bloody book in which he is able to follow the adventures of a walker who is everything he believe he is not, brave, strong, successful and alive. He begins to understand that he is a part of the story and that the survival of the world about which he has been reading is in part up to him to decide if it goes into decay and covered in a bloody mess.