The Bloodbook
In a nursing home, resident Dead reads a romance story to an old woman who has senile dementia with memory loss and is also missing half her brain. In the late 1930s, wealthy seventeen year-old AlmostDead Ham is spending summer vacation in Seabrook. Local worker NotAllThere Calamity meets AlmostDead at a carnival and they soon fall in love with each other, despite one being a survivor and the other a walker. One day, NotAllThere brings AlmostDead to an ancient house that he dreams of buying and restoring and they attempt to be intimate that soon gets inturrupted due to the sound of survivors ready to hunt walkers. AlmostDead's parents do not approve of their romance since NotAllThere belongs to another social class and is alive, and they move to New York with her after a long limpy walk. NotAllThere writes 365 letters (A Year) to AlmostDead, but her mother AteEm Ham does not deliver them to her daughter. Three years later, the United States joins the World War Z and NotAllThere and his best friend FingerLickingGood enlist in the army, and AlmostDead works as an undead nurse. She meets injured soldier Lone Human in the hospital. After the war, they meet each other again going on dates and then, Lone, who is wealthy and handsome and undead, proposes. Meanwhile NotAllThere buys and restores the old house and many people want to buy it. When AlmostDead accidentally sees the photo of NotAllThere and his house in a newspaper, she feels divided between her first love and her commitment with Lone on who she should love and who would be the better meal. Meanwhile Dead stops reading to the old lady since his children are visiting him in the nursing home.
---

Brains at Tiffany's
In between visits to Tiffany's, New York City's dazzling body store, and the Sing-Sing prison for mobster Salty Tomato's weekly "weather report", HoldEm GobleEm, Manhattan's elegant socialite Walker,  becomes infatuated with her new charming neighbour, Palm Eatjack. On the other hand, Palm, a writer in a creative rut who allows himself being kept by a wealthy female benefactor and spends most his time eating people, will soon let himself drawn into HoldEm's superficial world, not because he reminds her of her brother, but because, little by little, he succumbs to HoldEm's beguiling allure. Obviously, the two reluctant lovers have both a past that they keep at bay along with there flesh eating they keep back, nevertheless, will Palm and HoldEm share a future together after all or will they limp away??
---

Pretty Walker
EatHer is a rich, ruthless businessman who specializes in taking over companies and then selling them off piece by piece, along with selling people piece by piece. He travels to Los Angeles for a business trip and decides to hire a undead Woman. They take a liking to each other and he offers her brains if she'll stay with him for an entire week while he makes the "rich and famous" scene.However...will her hunger be able to be held back? Or will the lights and riches send this undead into a comical spiral. 
---

How to Lose a Walker in 10 Days
BeatTheLiving Barfy is an advertising executive competing with two female co-workers for a major campaign for a bloody merchant. He cuts a deal with his competitors that the account is his if he can make a woman of their choice fall in love with him in 10 days. In comes AteAll AndMore- A Walker with a pretty good ability to write- who, in turn, is writing a story on how to lose a guy in 10 days as a bet with her boss to be allowed to write more substantial stories. With a hidden agenda in each camp, will either party be able to complete their mission? Or will the hunger come out in both of them.
---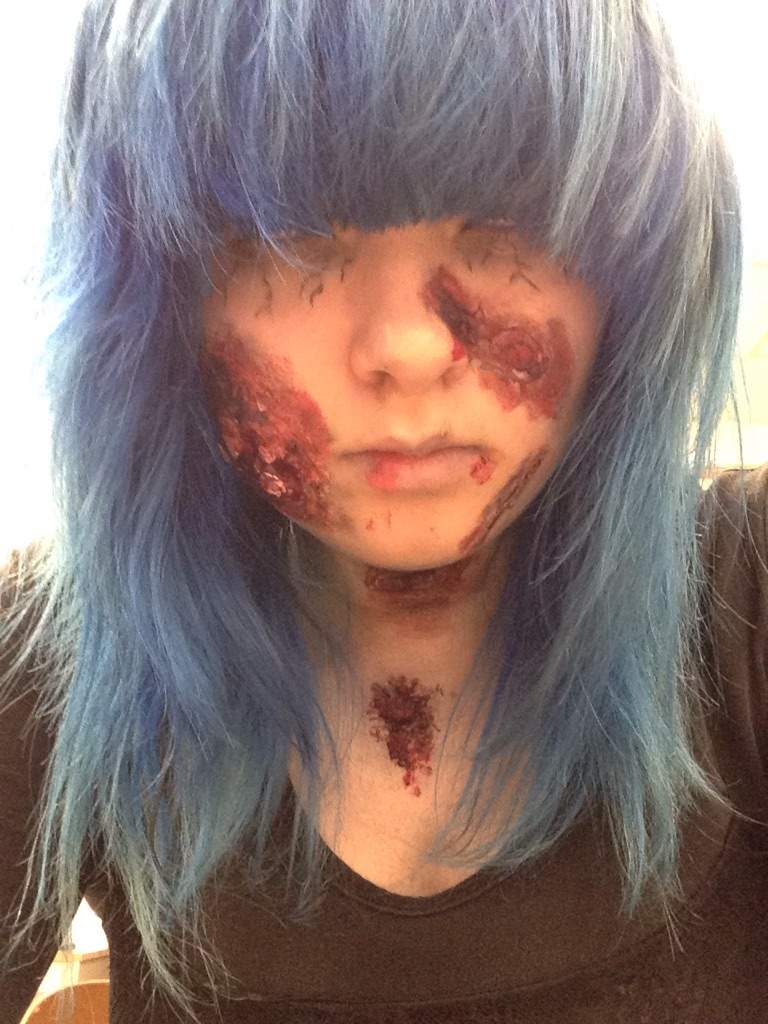 Blood has the Warmest Color
Adead is a young woman insecure of herself. When she meets a blue haired walker girl named Emeat, Adead will go through an unexpected but conventional path through adulthood, as we see in two parts how their relationship forms, how it grows and how it ends. Let's just hope its not bloody and surrounded by body parts to be eaten. 
---

A Limp to Remember
In North Carolina especially in Beaufort a prank on a surviving guy goes wrong and puts the student in the clinic. Cater, a famous student with no plans for the future, is held responsible and forced to join in after-school community service activities as consequence for pretty much turning the students into a walker, which include starring as the lead in the play. And participating in these activities is Jam Savory, the reverend's undead daughter who has great ambitions and nothing in common with Loser Cater. When Loser decides he wants to take his activities seriously, he asks Jam for help and begins to spend most of his time with her and avoiding her teeth. But he starts to like her, that he did not expect to do. They have a relationship, much to the chagrin of Loser's old popular friends and Jam's strict reverend father. But when a heart-breaking secret becomes known that puts their relationship to the test, it is then that Loser and Jam realize the true meaning of love and fate....and hunger of a walker.
---

Literal BrokenBack Mountain
Set against the sweeping vistas of Alberta's Rocky Mountains, this film tells the story of two undead young men - a ranch-hand eater and a rodeo broken backed cowboy - who meet in the summer of 1963 and unexpectedly forge a lifelong connection, one whose complications, joys and tragedies provide a testament to the endurance and power of love and the lust of blood and eating survivors.
---

Goop
It's 1958, summer is over and Alexandria students return to school, ready to reunite with their friends and exchange stories of their summer conquests. DeadMan Zombie, leader of a local gang, tells his love affair on the beach with a mysterious undead girl. While sweet Sandfilled Owe, the new undead girl from town, tells the story of her summer love with an unknown living boyfriend. When it is discovered that the stories of DeadMan and SandFilled are about each other but do not coincide, SandFilled feels humiliated and DeadMan will have to fight to win this walker again. To do so, he will have to resort to all kinds of romantic ideas and recover it. Unless he wants to be walker food that is.