---
Alright book time. We have been looking at movies a little to long. I think we need to open up a good book and get to reading what do you think? I for sure wouldn't mind going to the romance section and grabbing a book most people would put as NSFW. So.. uh.. yeah. Ignore that last part and lets move onto some pretty awesome books...with a walker twist/or just plain a good zombie book. 
---
1. Alice in ZombieLand
BOOK 1 OF THE WHITE RABBIT CHRONICLES 

She won't rest until she's sent every walking corpse back to its grave.  

Forever. 

Had anyone told Alice Bell that her entire life would change course between one heartbeat and the next, she would have laughed. But that's all it took. One heartbeat. A blink, a breath, a second, and everything she knew and loved was gone.  

Her father was right. The monsters are real. 

To avenge her family, Ali must learn to fight the undead. To survive, she must learn to trust the baddest of the bad boys, Cole Holland. But Cole has secrets of his own, and if Ali isn't careful, those secrets might just prove to be more dangerous than the zombies. 
---
2. Pride and Prejudice and Zombie
"It is a truth universally acknowledged that a zombie in possession of brains must be in want of more brains."
So begins Pride and Prejudice and Zombies, an expanded edition of the beloved Jane Austen novel featuring all-new scenes of bone-crunching zombie mayhem. As our story opens, a mysterious plague has fallen upon the quiet English village of Meryton—and the dead are returning to life! Feisty heroine Elizabeth Bennet is determined to wipe out the zombie menace, but she's soon distracted by the arrival of the haughty and arrogant Mr. Darcy. What ensues is a delightful comedy of manners with plenty of civilized sparring between the two young lovers—and even more violent sparring on the blood-soaked battlefield. Can Elizabeth vanquish the spawn of Satan? And overcome the social prejudices of the class-conscious landed gentry? Complete with romance, heartbreak, swordfights, cannibalism, and thousands of rotting corpses, Pride and Prejudice and Zombies transforms a masterpiece of world literature into something you'd actually want to listen to.
---
3. Zone one
In this post-apocalyptic world, citizens have been divided into two categories: the infected and the uninfected. The uninfected try to build back the civilization that existed before the plague in Zone One (located in Manhattan), but groups of infected still lurk around their island. Teams of civilians, including our protagonist Mark Spitz, are tasked with getting rid of these infected squatters, but of course things don't end up going according to plan. All of this might sound like traditional zombie fodder, but it Colson Whitehead's capable hands, the typical zombie story is taken in new and thought-provoking directions.
---
4. The Zombie Survival Guide 
The Zombie Survival Guide is your key to survival against the hordes of undead who may be stalking you right now. Fully illustrated and exhaustively comprehensive, this book covers everything you need to know, including how to understand zombie physiology and behavior, the most effective defense tactics and weaponry, ways to outfit your home for a long siege, and how to survive and adapt in any territory or terrain.

Top 10 Lessons for Surviving a Zombie Attack 

1. Organize before they rise! 
2. They feel no fear, why should you?
3. Use your head: cut off theirs.
4. Blades don't need reloading.
5. Ideal protection = tight clothes, short hair.
6. Get up the staircase, then destroy it. 
7. Get out of the car, get onto the bike.
8. Keep moving, keep low, keep quiet, keep alert!
9. No place is safe, only safer. 
10. The zombie may be gone, but the threat lives on. 

Don't be carefree and foolish with your most precious asset—life. This book is your key to survival against the hordes of undead who may be stalking you right now without your even knowing it. The Zombie Survival Guide offers complete protection through trusted, proven tips for safeguarding yourself and your loved ones against the living dead. It is a book that can save your life.
---
5. Warm Bodies
"R" is having a no-life crisis—he is a zombie. He has no memories, no identity, and no pulse, but he is a little different from his fellow Dead. He may occasionally eat people, but he'd rather be riding abandoned airport escalators, listening to Sinatra in the cozy 747 he calls home, or collecting souvenirs from the ruins of civilization.

And then he meets a girl.

First as his captive, then his reluctant house guest, Julie is a blast of living color in R's gray landscape, and something inside him begins to bloom. He doesn't want to eat this girl—although she looks delicious—he wants to protect her. But their unlikely bond will cause ripples they can't imagine, and their hopeless world won't change without a fight.
---
6. I Am Legend 
Robert Neville may well be the last living man on Earth . . . but he is not alone.
An incurable plague has mutated every other man, woman, and child into bloodthirsty, nocturnal creatures who are determined to destroy him.
By day, he is a hunter, stalking the infected monstrosities through the abandoned ruins of civilization. By night, he barricades himself in his home and prays for dawn....
---
7. Rot and Ruin
In the zombie-infested, post-apocalyptic America where Benny Imura lives, every teenager must find a job by the time they turn fifteen or get their rations cut in half. Benny doesn't want to apprentice as a zombie hunter with his boring older brother Tom, but he has no choice. He expects a tedious job whacking zoms for cash, but what he gets is a vocation that will teach him what it means to be human.
---
8. Generation Dead
Phoebe Kendall is just your typical Goth girl with a crush. He's strong and silent... and dead.

All over the country, a strange phenomenon is occurring. Some teenagers who die aren't staying dead. But when they come back to life, they are no longer the same. Feared and misunderstood, they are doing their best to blend into a society that doesn't want them. 

The administration at Oakvale High attempts to be more welcoming of the "differently biotic." But the students don't want to take classes or eat in the cafeteria next to someone who isn't breathing. And there are no laws that exist to protect the "living impaired" from the people who want them to disappear—for good. 

When Phoebe falls for Tommy Williams, the leader of the dead kids, no one can believe it; not her best friend, Margi, and especially not her neighbor, Adam, the star of the football team. Adam has feelings for Phoebe that run much deeper than just friendship; he would do anything for her. But what if protecting Tommy is the one thing that would make her happy?
---
9. World War Z: The Oral History of the Zombie War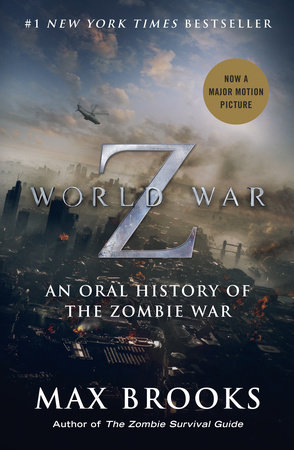 The Zombie War came unthinkably close to eradicating humanity. Max Brooks, driven by the urgency of preserving the acid-etched first-hand experiences of the survivors from those apocalyptic years, traveled across the United States of America and throughout the world, from decimated cities that once teemed with upwards of thirty million souls to the most remote and inhospitable areas of the planet. He recorded the testimony of men, women, and sometimes children who came face-to-face with the living, or at least the undead, hell of that dreadful time. World War Z is the result. Never before have we had access to a document that so powerfully conveys the depth of fear and horror, and also the ineradicable spirit of resistance, that gripped human society through the plague years.
---
10. The Walking Dead Comics
An epidemic of apocalyptic proportions has swept the globe, causing the dead to rise and feed on the living. In a matter of months, society has crumbled: There is no government, no grocery stores, no mail delivery, no cable TV. Rick Grimes finds himself one of the few survivors in this terrifying future. A couple months ago he was a small town cop who had never fired a shot and only ever saw one dead body. Separated from his family, he must now sort through all the death and confusion to try and find his wife and son. In a world ruled by the dead, we are forced to finally begin living.
---
Well there are some awesome books for you guys to enjoy. If you have a suggestion for a theme of this blog let me know below! I would love some help picking a theme. Tell me which of these books you are thinking of getting or checking out.
 
-Lilja